The department of Cardiology offers most current and specialized diagnostic and treatment services. Our integrated amenities are supported by internationally trained highly qualified and experienced doctors, nurses and support staff; The department boasts of state-of-the-art specialized diagnostic and equipment and treatment facilities. This makes our hospital one of the premier institutions for cardiac care in the city as well as the country.
Our highly trained and proficient cardiologists are accompanied by experienced cardiac surgeons provide excellent all-encompassing care for any heart ailment.
We strongly believe in "Patient Centric" treatment so that informed and evidence-based decisions are taken for every patient, every time.
Technology & Infrastructure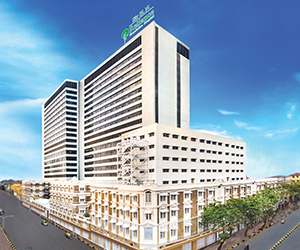 The Non Invasive Cardiology unit has state-of-art ECG machines, Holter monitors, treadmill test machines, Ambulatory BP monitors and Tilt Table test equipment. The department boasts of latest Echocardiography machines, which offers entire spectrum of basic and advanced echocardiography services. All the cardiac diagnostic facilities on the Out Patient Cardiology cluster which provides additional convenience to patients.
The Interventional Cardiology unit of our department is equipped with state of art and fully integrated catheterization lab - Cathlab and hybrid catheterization lab for simple and complex coronary angioplasties and other procedures. Our Hybrid Cathlab – OR is one of its kind in the state and one of the few in the entire country. We have pressure wire technology for measuring Fractional Flow Reserve (FFR) in the borderline blockages, Rotablation technology for complex angioplasties with excessive calcification, and also state of art machines to perform the Intravascular ultrasound (IVUS) of the coronary arteries.
Our Interventional team is available 24 x 7 to help patients with any sort of cardiac emergencies including heart attack. Our extremely efficient Emergency Room (ER) services and 24 x 7 standby team of interventional cardiologists, nurses and technicians enable us to treat heart attacks in an extremely time-sensitive manner making our door-to-balloon times comparable to world best standards.
Our Interventional Cardiology Unit also boasts of being one of the few centres in the country to have diverse Structural Cardiac Intervention portfolio. The hospital has a team of internationally trained and most experienced structural heart disease interventionists. They offer services like TAVR / TAVI (Transcatheter aortic valve replacement). Our hospital is one of the leading centres in the city and region in TAVR procedure (Non-surgical valve replacement). We also offer other structural heart interventions like Transcatheter pulmonary valve replacement (TPVR / PPVI), Transcatheter mitral valve replacement (TMVR), Mitra-clip, PFO closure, Left atrial appendage closure and many others.
Our hospital is equipped with next generation Electrophysiology (EP) equipments and we offer services like pacemaker implantation, Intracardiac defibrillator (ICD) implantation, Cardiac resynchronization therapy (CRT), EP study, Radio-frequency ablation for complex arrhythmias etc.
Services
Partners in care