The Paediatric Hemato-Oncology department of Sir H. N. Reliance Foundation Hospital and Research Centre is a dynamic department dedicated to treating and increasing knowledge about all aspects of childhood cancer.
Our vision is to bring best care in Oncology and Hematology and believe in continuous interaction with parents / patients and implementing best institutional protocols. We hope to improve the treatments that are currently available and optimize them in a way that children get the maximum benefit in the shortest time. We aim to provide holistic treatment towards both malignant and nonmalignant childhood hematological disorders.
At Sir H. N. Reliance Foundation Hospital and Research Centre, we have a highly experienced staff and dedicated team of doctors assigned to take care of your child. Our doctors have worked extensively in their respective fields within the country and in some of the best centers abroad. We constantly strive towards providing the best care to the child and building a rapport with the parents.
Sir H. N. Reliance Foundation Hospital and Research Centre is adopting practices which improve the patient compliance and adherence to treatment and results in best outcomes. We understand your needs completely and are dedicated to devote time and energy to answer all your queries. Our staff is suited to handle any medical emergency and are available 24/7 at your service.
Technology & Infrastructure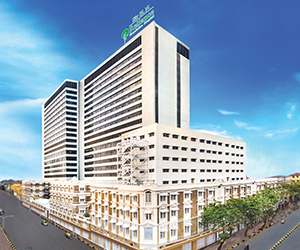 Our facilities blend into a child friendly environment to put our little patients at ease instantly. Our states of the art OTs as well as diagnostics are assured to give you the best results in a short span. We have isolation rooms for immunocompromised patients and Laminar Flow cabinets to prepare chemotherapy drugs in safe environment. We also have sedation facility to do day care procedures like bone marrow aspiration / biopsy / Lumbar puncture etc.
We have play rooms especially for children to unwind and catch up on fun activities. We conduct personalized patient education sessions for patient / care givers to make them understand the side effects and course of anti-cancer treatment. We also have Palliative Care and Pain team / social worker services
Our After Completion Therapy clinic caters to the needs of the patients who complete their treatment helping them to cope better and improve quality of life.
Services
Oncology
Childhood blood cancers / lukemias: All types including high-risk and relapsed childhood Lymph gland cancers / Lymphomas
Childhood solid tumors: Difficult and rare including Wilms' tumor, Rhabdomyosarcoma
High-risk Neuroblastoma
Bone cancers: Osteosarcoma, Ewing's Sarcoma, Spindle Cell Sarcoma
Haematology
Thalassemia major and intermedia
Sickle cell disease
Multidisciplinary approach to haemophilia
Bleeding disorders
Idiopathic autoimmune thrombocytopenia
Haemophagocytic Lympto Histiocytosis
Bone marrow failure syndromes like aplastic anaemia
Pediatric Bone Marrow / Hematopoietic Stem Cell Transplant Services
The Pediatric bone marrow transplant unit at Sir HN Hospital is one of the most modern transplant units and is equipped with the finest infrastructure and facilities. The unit provides comprehensive transplant services to patients for all kinds of conditions requiring transplant. The unit is geared up to do Allogeneic Match Related, Match Unrelated and Haploidentical Transplants. The conditions for which BMT services are available are:
Leukemia
Immunodeficiency Diseases
Marrow Failures Syndromes
Aplastic Anemia
Hemoglobinopathies like Thalassemia Major
Autologous Transplants for Lymphomas , Solid Tumors like Neuroblastoma
During the transplant the patient stays in the Hepa filter positive pressure rooms. The availability of world class technology and high air exchange rates ensure very low infection rates in the unit. There is dedicated nursing team which is specifically trained in taking care of BMT patients."
Partners in care