The department of Gastrointestinal & Colorectal Surgery offers the best treatments for all gastrointestinal and allied diseases.
The department, in collaboration with medical gastroenterologists and radiology department, offers comprehensive and integrated care. The diagnostic and interventional radiology service offers state of the art cross sectional imaging (CT and MRI) with a dedicated abdominal radiologist to aid diagnosis and plan management.
Technology & Infrastructure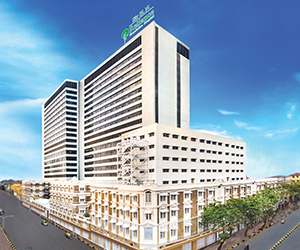 Detailed planning has gone for creating world class infrastructure and procuring cutting edge technology for our department.
Our high-class modular operation theatres enable us to conduct the most advanced and complicated surgical procedures. Our surgical team is assisted by sophisticated diagnostic services and well equipped Intensive Care Units (ICUs) manned with qualified senior consultants to ensure better outcomes. We also have advanced da Vinci Robotic Equipment to perform complex robotic surgeries. We also have services which are capable of rendering complex surgeries like Cytoreductive surgery, HIPEC and Robotic cancer surgeries. The diagnostic department at Sir H. N. Reliance Foundation Hospital and Research Centre has advanced equipment like CT, MRI, PET, etc.
Services
Colorectal reconstructive surgery (pouch surgery)
Surgeries for complex diverticular diseases
Laparoscopic colorectal/ intestinal surgery
Robotic cancer surgeries (bowel resection)
Cytoreductive and HIPEC surgeries
Sphincter preserving surgeries
Stoma counselling and stoma care clinics
Surgeries for inflammatory bowel disease including reconstructive surgeries
Advanced treatment for piles (hemorrhoids) including minimally invasive and Doppler guided surgery (HALS)
Treatment for benign pelvic floor disorders and incontinence via multi-disciplinary team approach, including surgical and non-surgical like biofeedback and physiotherapy.
Sacral neuro-modulation for incontinence.
Partners in care
Dr. Kaiomarz Balsara
Consultant

Department
General and Minimal Access Surgery
Qualification
MS (Master of Surgery)
Dr. Nilesh H. Doctor
Consultant

Department
Gastrointestinal Surgery
Qualification
MBBS, MS (General Surgery), DNB (General Surgery)
Dr. Abhijit Thakur
Consultant

Department
General Surgery
Qualification
MBBS, MS (Gen Surgery) Mumbai University
AFSA (France)
Dr. Soumil Jitendra Vyas
Consultant

Department
General and Minimal Access Surgery
Qualification
MBBS,MS,DNB,FRCS(Edin),FRCS(UpperGI/HPB),MNAMS,M.Med(Surg)(Singapore), FAIS , FEBS, FIAGES