Our department of Paediatric Cardiac Sciences offers the most compassionate, comprehensive and modern care for children with congenital heart defects. The department has some of the most well-known professionals in the country with extensive experience in their respective fields.
Many heart defects in infants and children manifest early, and if diagnosed precisely at the earliest, there is a chance for the child to lead a normal and unrestricted life. Moreover, many of the defects can be fatal if not treated in the first few days of life. We ensure precise diagnosis of the defect and then operating upon the baby in the best environment by some of the safest and best hands in the country. We have the safest critical care environment to take care of the tiny tots in a compassionate environment after the surgery. Our round-the-clock critical care team comprises of leaders and team members who are known for their expertise and skills in the country to give unparalleled attention to the baby in the most critical phase of his/her life.
The Paediatric and Congenital Heart Surgery is headed by accomplished professionals in the field, with an experience of a quarter of a century in the field. The team is well known for delivering exceptional outcomes in the perioperative period and the spectrum of surgery encompasses neonatal heart reconstructions to surgery for grown-up congenital heart diseases. Our surgeons are renowned for innovations in Neonatal and Infant Heart Surgeries, Paediatric Valve Reconstructions, Redo and Complex Congenital Heart Surgeries, and Cosmetic Approaches for Congenital Heart Surgeries. Complex heart defects like Complete AV Canals, Total Anomalous Pulmonary Venous Connections, Complex Transposition of Great Arteries with Coronary Artery Anomalies, Ebstein's Anomalies, Anomalous Left Coronary Arteries from Pulmonary Artery and Arch Interruptions are also treated with the best of outcomes on par with the best centers in the world.
Technology & Infrastructure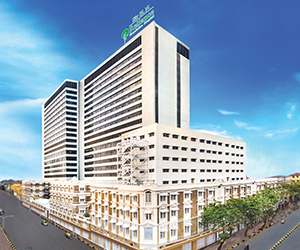 The centre has state-of-the-art infrastructure like Hybrid Labs and LED lights in the operating suites for combined surgical procedures, along with the interventions. The customised, state-of-the-art operating suites, ICU beds and specially-designed tariffs for the care of the tiny loved ones are some of the highlights.
Services
We assure comprehensive and compassionate care of a child with any congenital heart defect. Our services include:
Addressing the Transposition of Great Arteries in all its spectrum with the outcomes that matches the best in the world
Expertise in operating Complete Atrioventricular Septal Defect (also known as Complete AV canals) with results only very few centers in the world are currently delivering
Technical expertise to innovatively deal with Total Anomalous Pulmonary Venous Connection with severe pulmonary venous obstructions
Total correction of Tetralogy of Fallot (popularly known as TOF; the common cause of blue babies) before 2 years of age
Cosmetic approaches called Posterior Thoracotomy (from the right side of the back) and Mini-Sternotomy approaches that minimises the length of the incisions and also hides the scars
Technically-challenging valve reconstructions and repairs among children with defects like Congenital Mitral Valve Regurgitation and Ebstein's Anomaly
Partners in care
Dr. Shivaprakash Krishnanaik
Director

Department
Paediatric Cardiac Sciences
Qualification
MBBS, MS (General Surgery), MCh (Cardio-thoracic & Vascular Surgery)
Dr. Asif Shaikh
Deputy Consultant Anaesthetist & Intensivist

Department
Paediatric Cardiac Sciences
Qualification
MBBS, MS (General Surgery), MCh (Cardiovascular & Thoracic Surgery)
Dr. Bharat Dalvi
Consultant

Department
Paediatric Cardiac Sciences
Qualification
MD, DM (Cardiology), Clinical Fellow - Cardiology, Children's Hospital, Boston USA, Cleveland Clinic Foundation International Medical Scholar, USA, 1997
Dr. Jeril Kurien
Chief Anaesthetist & Intensivist

Department
Paediatric Cardiac Sciences
Qualification
MBBS, DA, FCPS Anaesthesia, DNB Anaesthesia, PDCC
Dr. Kshitij Sheth
Consultant

Department
Paediatric Cardiac Sciences
Qualification
MBBS, DCH, DNB (Paediatrics), FNB - Paediatric Cardiology
Dr. Manglesh S. Nimbalkar
Consultant

Department
Paediatric Cardiac Sciences
Qualification
MBBS, MD - Paediatrics Awarded prestigious fellowship by Society of Cath Interventions, for performing over 2,400 Angiography procedures
Dr. Nilesh Bhadane
Consultant & Intensivist

Department
Paediatric Cardiac Sciences
Qualification
MBBS, DNB Anaesthesia, PDCC
Dr. Jyoti Sajjanshetty
Associate Consultant

Department
Paediatric Cardiac Sciences
Qualification
MBBS, MD (Anaesthesia)
Dr. Sanah Merchant Soomar
Consultant Paediatric Cardiologist

Department
Paediatric Cardiology
Qualification
MBBS, MD peds (US equiv), DM peds card (US equiv)