The Cardiac Surgery arm of Sir H. N. Reliance Foundation Hospital and Research Centre is one of the best in the city. We believe in providing evidence based therapies to the patient at the centre. We deliver bespoke therapeutic and surgical solutions tailored to the individual. Our qualified and dedicated team of surgeons, anaesthetists, doctors, nurses, technicians and other cardio-thoracic experts are committed to delivering the highest international standards of patient care, education and research in order to relentlessly drive quality.
Our Holistic approach for each and every patient in order to have a comprehensive understanding of their condition.
Technology & Infrastructure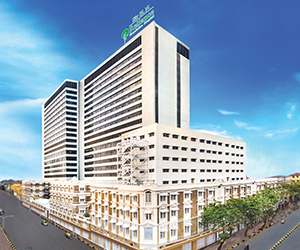 To provide the very best care, Sir H. N. Reliance Foundation Hospital and Research Centre has invested in the best facilities and infrastructure with fully integrated Operating Rooms with the latest cardiopulmonary bypass machines and cell savers.
We also have a total electronic data system that allows surgeons, physicians and intensive care physicians to monitor data on their fingertips. We are one of few places in India that has the da Vinci Si IV Robotic system for use in selected cases. A Hybrid operating room with the latest technology is available to perform minimal access cardiac surgery in conjunction with Cardiology colleagues, TAVR and hybrid complex aortic surgery.
We provide Minimally Invasive Radial artery and Saphenous Vein harvesting systems for use in Coronary Artery Bypass Grafting (CABG) surgery.
We provide a minimally invasive cardiac surgery facility with latest technology comparable with International standards encompassing the full spectrum of valve and coronary surgery.
We aim to be a "Centre of Excellence" in CABG at par with international cardiac care standards and also to excel as a Heart Failure Surgical treatment centre in India providing extracorporeal circulatory support (ECMO) and fully implantable mechanical circulatory assistance devices (VADs). Our heart failure and transplant trained cardiac surgeons will deliver a comprehensive heart failure service with a planned cardiac transplantation programme.
Services
The following are the services that our department offers
Coronary Artery Bypass (OPCAB, CABG, MID-CAB, EA-CAB and Robotically assisted CAB)
Redo Coronary Artery Bypass surgery (Redo CABG)
Valvular Replacement and Repair
Surgical Repair of Aortic Root/ Ascending Aortic / Arch and Descending Aortic aneurysms.
Acute Aortic Dissection Repair
Abdominal Aortic Surgery
Carotid Endarterectomy
Heart Failure Surgical Services, Surgical Ventricular Restoration, Mitral and Tricuspid Repair
Mechanical Circulatory Support
Orthotopic Heart Transplantation
Surgery for Atrial Fibrillation (isolated and concomitant surgical treatment)
Minimal Access Cardiac Surgery
Pulmonary Thromboendarterectomy (PTE) Surgery
Single and bilateral sequential lung transplantation.
Partners in care
Dr. Anvay Mulay
Director

Department
Cardiac Surgery
Qualification
MBBS, MS (General Surgery), MCh (Cardiovascular and Thoracic Surgery), 
MRCS
(Cardiothoracic Surgery)
Dr. Ali Asgar Behranwala
Consultant

Department
Cardiac Surgery
Qualification
MBBS, MS (General Surgery), DHA, MCh (CVTS), FIACS
Dr. Aniruddh Trivedi
Consultant
Department
Cardiac Sciences
Qualification
MBBS, MS (Gen Surgery), M.Ch (Thoracic Surgery)
Dr. Bipeenchandra Y. Bhamre
Consultant

Department
Cardiac Surgery
Qualification
MBBS; MS; M.Ch. Cardiovascular and Thoracic Surgery; MD (USA)
Dr. Sudhanshu Bhattacharyya
Consultant

Department
Cardiac Sciences
Qualification
MBBS, MS (General Surgery), MCh (Thoracic Surgery)
Dr. Talha Meeran
Consultant

Department
Advanced Cardiac Sciences and Heart Transplant
Qualification
MBBS, MD (Internal medicine), FACC (Cardiology, USA)
Dr. Neeraj A. Kamat
Consultant

Department
Cardiac Surgery and Heart Transplant
Qualification
MBBS, MS (General Surgery), MCh (CTVS AIIMS), FRCS(Ed)-CTh