An Intensive Care Unit (ICU) is a specific area within the hospital where sophisticated monitoring, adequate life support, specific therapy and specialized nursing can best be provided for post-operative critical care major high end surgical procedures & for potentially salvageable, critically ill patients with life threatening illness or injury. It provides life support and organ specific therapy with the help of "state of the art" monitoring system and other specialized equipment's for any critical illness.
The patient will be attended by a skilled team of experienced critical care physicians, nurses and other healthcare professionals. The care provided by them will be evidence based. The ICU comprises of single cubicles with natural light. Each cubicle will have a decentralized nursing station at bedside allowing better monitoring. The attendants of the patient will be provided a comfortable seating and sleeping arrangement in the family lounge outside the ICU.
A qualitative basis for categorizing patients is required depending on generic goals of intensive care. The categories, which generally apply to all specialty ICU patients, have been identified as:
a)Monitoring/ observation
b)Extensive nursing requirements and
c)Constant patient care.
Technology & Infrastructure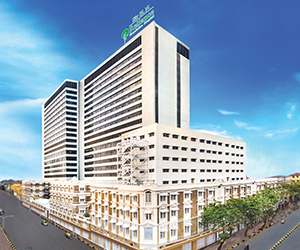 The 64-bed Critical Care Medicine Department at Sir H. N. Reliance Foundation Hospital and Research Centre is designed based on the American Institute of Architects (AIA) Standards. Our ICUs have easy access to the Emergency Department, Operating Unit, Medical Imaging and Laboratory. This allows elimination of patient movement through traffic areas. Wide corridors ensure swift movement of patients simultaneously at any given point of time.
In addition, each ICU cubicle is an individual entity and is equivalent to a private room. This provides maximum comfort to the patient and family. There is decentralised nursing at every bedside and each room has natural sunlight. Strict monitoring of infection control practices is prevalent in the ICU at every stage. Furthermore, the beds on 19th floor can be converted into ICU, if needed.
A snapshot of the medical equipment and technology at the ICU:
Electronic medical records
Touch screen monitoring integrated with the Hospital Information System (HIS)
Modern ventilators with invasive and non-invasive modes
MRI compatible monitors and ventilators
Point of care system for rapid bedside laboratory testing
Mobile dialysis facility
Isolation rooms equipped for immune-compromised and infective patients
Advanced cooling equipment for Cardiac arrest and neuro-trauma patients
ICCA (IntelliSpace Critical Care and Anaesthesia) technology which supports the intensive care continuum across anaesthesiology, critical care, intermediate care and medical-surgical care specialties.
The Family Lounge:
The attendants accompanying ICU patients are provided with dedicated and comfortable sleeping arrangements outside the ICU, on the same floor. The lounge is equipped with recliners, pantry facilities, television and conference room.
Services
The ICU at Sir H. N. Reliance Foundation Hospital and Research Centre caters to management of all patients with life threatening illness or injury as well as those needing post-operative critical care after major surgical procedures, etc.
Types of ICU in the facility:
Medical Intensive Care Unit (MICU): This unit provides care for all critically ill medical and cardiac patients
Surgical Intensive Care Unit (SICU): This unit provides care for critically ill patients who have undergone a major surgical procedure
Neonatal Intensive Care Unit (NICU): This unit is dedicated for the care of ill or premature new-born infants
Paediatric Intensive Care Unit (PICU): This unit specialises in the care of children and teenagers with a life threatening illness.
Partners in care
Dr. Darshana D. Rathod
Chief Intensivist
Department
Critical Care Medicine
Qualification
MBBS, MD Internal Medicine
Dr. Ketan Kargirwar
Consultant

Department
Critical Care Medicine
Qualification
MBBS, MD (Anaesthesiology), FNB (Critical Care Medicine)
Dr. Mehul S. Shah
Chief Intensivist

Department
Critical Care Medicine
Qualification
MBBS, MNAMS, DA, DNB (Anaesthesia)