The Centre for Sports Medicine housed in Sir H. N. Reliance Foundation Hospital and Research Centre is dedicated to help every athlete, professional or recreational, to achieve their fullest potential and remain injury-free, through the use of sports medicine and exercise science.
Through a combination of physical testing, physical training, nutrition and mental training, we can help every individual optimise their sports performance. Our team through a comprehensive and multidisciplinary approach, helps injured athletes to return to play in the shortest possible time, using the latest diagnostic technology combined with the human touch. Besides sports performance, our goal is to enhance the health of individuals through safe participation in sports and physical activity.
Technology & Infrastructure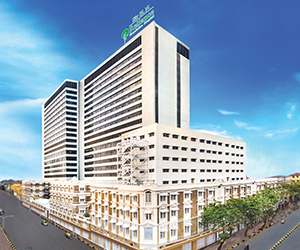 The Centre for Sports Medicine at Sir H. N. Reliance Foundation Hospital and Research Centre has a wide range of high-tech equipment, which is used in conjunction with manual therapy to diagnose and treat various injuries. These help to speed up the rehabilitation process and provide objective assessment of the athlete's condition. The Centre also helps the athletes to enhance performance and improve fitness levels.
Some of the specialised equipment include:
Alter G anti-gravity treadmill
Rehabilitate post-injury or post-surgery
Reduce impact during plyometric and strengthening exercises
Complete biomechanical training – lateral, backwards and form drills.
Primus: A multi-joint dynamometer with work simulator
Physical evaluation & rehabilitation
Human performance testing
Task simulation
Restoring functional abilities.
VO2max testing system
Measurement of maximal oxygen uptake – VO2 max
Cardio-respiratory fitness (CRF) assessment
Calculating the resting metabolic rate (RMR) and daily caloric intake.
Balance assessment
The Balance assessment system provides objective assessment and retraining of the sensory and voluntary motor control of balance with visual biofeedback on either a stable or unstable support surface and in a stable or dynamic visual environment.
Gait and Motion Lab Analysis and electromyography (EMG) system
Using a state-of-the-art Motion Lab Analysis system with 13 high resolution cameras along with 8-channel DTS (Electromyography) EMG system provides us a clear picture of how different parts of the body interact when they are in motion. Biomechanical analysis can be carried out for every sport-specific movement.
Services
Our interdisciplinary team of healthcare professionals provides services including, but not limited to:
Injury assessment and treatment
Human performance lab for VO2max testing, lactate threshold testing, and isokinetic testing and training
Specialised sport specific clinics – Running clinic, Cricket clinic, Golf clinic, Football clinic
Sports rehabilitation
Orthotic/footwear evaluation
Sports nutrition
Pain Management
Psychological Counselling
Partners in care
Dr. Aashish Contractor
Director

Department
Rehabilitation and Sports Medicine
Qualification
MBBS, MED (US)
Mr. Jimit Kapadia
Consultant

Department
Rehabilitation and Sports Medicine
Qualification
MPT (Sports & Ortho, Gold Medalist), MCMT (Manual Therapy Foundation of India), COCMT (Robbie Goodrum Institute, UK), CSMT (Curtin University, Australia), NDT (Neuro-Dynamic Solutions, Australia), DNP (The Dry Needling Institute, South Africa), CMP (Mulligan Institute, Australia), Masters in Taping (Complete Taping, South Africa), McConnell Concept Practitioner (Mcconnell Institute, Australia), MMFTI, MIAP
Mr. Mustafa Rangwala
Consultant

Department
Rehabilitation and Sports Medicine
Qualification
B. Physiotherapy, MS [Sports injury Mgmt. & therapy]
Dr. Tvisha Parikh
Sports Physician

Department
Rehabilitation & Sports Medicine
Qualification
MBBS, Masters in Sport & Exercise Medicine, PhD
Ms. Leandi Van Zyl
Associate Consultant

Department
Rehabilitation and Sports Medicine
Qualification
BA (H) Human Movement Science, BA (H) Sport Science
Ms. Mihira Khopkar
Sports Nutritionist

Department
Rehabilitation and Sports Medicine
Qualification
BHSC, MSc. (Sports Nutrition)
Dr. Chandan Poddar (P.T.)
Consultant

Department
Sports Medicine & Rehabilitation
Qualification
BPTh (Seth G. S Medical College & KEM Hospital), Master of Musculoskeletal and Sports Physiotherapy (Australia), NDS (Neurodynamic Solutions, Australia), Certified Taping Practitioner (Complete Taping, South Africa), Mulligan Concept (Mulligan Institute, Australia), Dry Needling Practitioner (Physiohealth, India)