Geriatric care is also known as 'elder care' or 'senior healthcare'. Seniors encounter multiple health issues which gradually start escalating. These include mobility problems, joint problems, urinary difficulties, emotional and social concerns, medication related problems, and issues with memory. All these concerns and more are addressed by this department.
The Geriatrics department at Sir H. N. Reliance Foundation Hospital and Research Centre provides comprehensive solutions for a wide spectrum of disorders and ailments affecting the elderly. Geriatric care is multidisciplinary (including orthopaedics, urology, nutritionist and physiotherapists) so that we can provide holistic care to our seniors. The department is backed by the knowledge and expertise of the best doctors in various fields and those adept in world-class health practices, and is also supported by world-class equipment and infrastructure.
Speciality geriatric care at the Hospital aims to improve the quality of life, and maintain the functional independence of our seniors for as long as possible. Geriatric clinic is, a special clinic where the seniors, 65 years and above can be examined for preventive assessment or diagnosis of disease or ailments. It is managed by a specially trained consultant who works with specifically defined protocol (quite like paediatrics) for a holistic assessment of the patient with a view to prevent future health problem & improve quality of life.
The consultation with a geriatric consultant involves a detailed evaluation which includes assessment of mobility, mood, memory, medications, bone health, other chronic conditions and the need for further investigations and immunisations. Multidisciplinary input from physiotherapists, behavioural health specialists, orthopaedists, urologists and other specialists are sought, as the condition may warrant. Healthy seniors are also encouraged to visit the geriatric clinic for a preventive health check-up, in order to define means to maintain and optimise health and prevent illnesses. The goal of treatment is to help patients participate as fully as possible in active living.
Technology & Infrastructure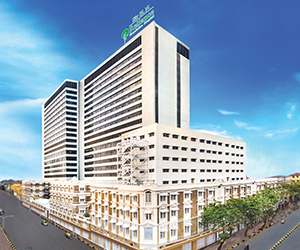 Rigorous planning has gone into the development of the best infrastructure for our patients. Our Out Patient Consulting rooms are well-equipped for a comprehensive examination.
The hospital has extensive space designated for physical medicine and rehabilitation. It has been designed keeping in mind, the accessibility for differently-abled patients. Our senior patients can avail the outstanding services of physical therapy department for their ever increasing needs for balance and mobility optimisation.
In addition, our laboratory services and advanced radiology services are available 24/7 for accurate and quick diagnosis.
Services
Treatment of medical problems such as diabetes, hypertension and dyslipidemia
Diagnosis and treatment of osteoporosis and osteopenia
Treatment of vitamin deficiencies
Memory assessment and treatment
Mood and Mobility assessment and treatment
Bone health assessment and treatment
Optimising medication use in the elderly
Immunisations
Preventive health care
Evaluation of urinary problems.
Partners in care
Dr. Preeti Chhabria
Director

Department
Internal Medicine
Qualification
MBBS (Bom), MD (USA), Board Certification, American Board of Internal Medicine