The Emergency Medical Services department at Sir H. N. Reliance Foundation Hospital and Research Centre provides quality emergency care with optimal outcomes that meet the evolving needs of patients. Round-the-clock services including resuscitation, management and observation of patients with any Medical or Surgical emergencies are available here.
Primarily, the department receives, stabilises and manages all kinds of patients who present with an urgent condition, whether self or referred. With collaborative effort, our team of highly experienced doctors, nurses and paramedics provide urgent and high quality medical care to patients round-the-clock. The department also provides for the reception and management of disaster patients as part of its role within the Disaster Plan for each region.
The Emergency Medical Services department also plays a key role in the development of value-added information for emergency preparedness, public health, EMS research and Strategic Governance.
Technology & Infrastructure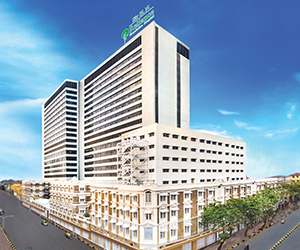 Strategically planned to provide the best possible care to emergency patients and aided with ultramodern infrastructure, the Emergency Medical Services department at Sir H. N. Reliance Foundation Hospital and Research Centre is one of its kind. It is located on the Ground floor, Tower for easy and uninterrupted access from outside with a dedicated path for ambulance. Emergency patients are admitted through a fast-track admission process in HIS (Hospital Information System) by capturing minimum diagnostics.
Few key highlights:
14 fully monitored beds including two triage beds
Central monitor to keep a close track of all patients
CT scan and X-ray facility for quick access and diagnosis
Plaster room and Procedure room
Operation Theatre equipped for immediate surgery
Transport Ventilator and Transport Monitor
USG for FAST scan
Defibrillator and resuscitation equipment.
Services
Trained and highly experienced clinical and paramedical staff is available 24/7 for providing the best quality services to all emergency patients:
Triage and prioritisation care
Disaster preparedness
Trauma and non-trauma care
Rapid sequence intubation
Mechanical ventilation
Defibrillation & Synchronised Cardioversion Advanced Cardiac Life Support
Paediatric Advanced Life Support
Haemodynamic support: Inotropes, anti-arrhythmic
Emergency Nursing Care
IV (intravenous) cannulation
Intravenous therapy including blood transfusion
Chest tubes drainage
Central line placement and haemodynamic monitoring
Initiation of cervical immobilisation and spinal precautions
Insertion of nasogastric tubes
Insertion of urinary catheters
Acute/acute-on-chronic pain management.
Partners in care
Dr. Vivek Kumar
Additional Director Critical Care and Head Emergency Medicine

Department
Critical Care Medicine
Qualification
MBBS, MD (Internal Medicine), DNB (Internal Medicine), IFCCM, EDIC, FICP, FICCM, FACP, MNAMS
Dr. Mayur H. Patel
Director & Consultant

Department
Critical Care Medicine
Qualification
MD, FCCP, FCCCM (HON)