The Emergency Medical Services at Sir H. N. Reliance Foundation Hospital and Research Centre are managed by a state-of-the art 20-bed Emergency Department.
The 20 fully monitored beds include three specialised negative isolation cubicle beds, one bed with dialysis capability, central monitoring station, in department diagnostics like a dedicated CT scan, X-ray department, portable X-ray facility, 2D-Echo and ultrasound machine, and point of care lab testing. There is a pneumatic tube system for speedy transport of samples from EMS to lab.
The therapeutic armamentarium includes defibrillators, standard and transport ventilators, dialysis machines, and facilities for IABP and ECMO initiation and maintenance.
The department provides evidence-based care with focus on best outcomes, patient satisfaction and patient experience.
The department is designed to respond by the clock in time-critical emergencies like heart attack, paralytic strokes, trauma, sepsis, and shock. This is achieved and audited by development of STEMI, Stroke, Sepsis, Shock pathways which objectively quantify best possible care. The department has the expertise to deal with a wide range of emergencies including mass casualties.
The working is protocol based and in sync with international norms. The working is also audited by monitoring patient satisfaction, time to initial assessment, number of revisits within 72 hours, and adverse drug reactions.
The quality care extends in the pre-hospital scenario where patient retrieval is done using SMART ambulance which has all life-saving facilities and is digitally tagged to the Emergency Department. There are two dedicated patient evacuation corridors for immediate transfer of patients to the cardiac catheterisation lab, operating rooms, labour room and Intensive Care Unit.
The department is recognized by Diplomate National Board (DNB) for speciality training in Emergency Medicine. There are three seats for DNB (Emergency Medicine) per batch. The department also caters to students preparing for The Membership of Royal College of Emergency Medicine (MRCEM), United Kingdom. There is a strong academic program with focus on both DNB and RCEM curriculum.
The hospital provides a culture which promotes research & publications, and participation in national and international conferences.
The department is developing National and International collaborations for keeping aligned with the best centres in the world.
The Emergency Medical Services department also plays a key role in the development of value-added information for emergency preparedness, public health, EMS research and Strategic Governance.
Technology & Infrastructure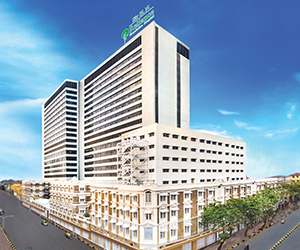 Strategically planned to provide the best possible care to emergency patients and aided with ultramodern infrastructure, the Emergency Medical Services department at Sir H. N. Reliance Foundation Hospital and Research Centre is one of its kind. It is located on the Ground floor, Tower for easy and uninterrupted access from outside with a dedicated path for ambulance. Emergency patients are admitted through a fast-track admission process in HIS (Hospital Information System) by capturing minimum diagnostics.
Few key highlights:
14 fully monitored beds including two triage beds
Central monitor to keep a close track of all patients
CT scan and X-ray facility for quick access and diagnosis
Plaster room and Procedure room
Operation Theatre equipped for immediate surgery
Transport Ventilator and Transport Monitor
USG for FAST scan
Defibrillator and resuscitation equipment.
Services
Trained and highly experienced clinical and paramedical staff is available 24/7 for providing the best quality services to all emergency patients:
Triage and prioritisation care
Disaster preparedness
Trauma and non-trauma care
Rapid sequence intubation
Mechanical ventilation
Defibrillation & Synchronised Cardioversion Advanced Cardiac Life Support
Paediatric Advanced Life Support
Haemodynamic support: Inotropes, anti-arrhythmic
Emergency Nursing Care
IV (intravenous) cannulation
Intravenous therapy including blood transfusion
Chest tubes drainage
Central line placement and haemodynamic monitoring
Initiation of cervical immobilisation and spinal precautions
Insertion of nasogastric tubes
Insertion of urinary catheters
Acute/acute-on-chronic pain management.
Partners in care
Dr. Mayur H. Patel
Mentor & Consultant

Department
Critical Care and Emergency Medical Services
Qualification
MD, FCCP, FCCCM (HON)
Dr. Vivek Kumar
Additional Director Critical Care and Head Emergency Medicine

Department
Critical Care Medicine
Qualification
MBBS, MD (Internal Medicine), DNB (Internal Medicine), IFCCM, EDIC,EDEC, FICP, FICCM, FACP, MNAMS