The General and Minimal Access Surgery department at Sir H. N. Reliance Foundation Hospital and Research Centre provides conventional as well as laparoscopic surgical treatment for a wide spectrum of conditions. Backed by the vast clinical experience of our surgeons and equipped with cutting-edge technology, this department delivers services at par with international standards.
With the development of newer technologies and with the integration of Bio-medical engineering, General Surgeons today, are able to cater to complex cases with breakthrough surgeries, better than ever before.
Furthermore, the transformation of conventional surgeries (that use relatively large surgical incisions) to laparoscopic surgeries (which use tiny incisions), has been a great leap in revolutionising the way surgery is approached. Today, it's virtually possible for most of the surgeries to be conducted laparoscopically, thus helping patients to:
Cut down the post-operative stay in hospital
Less post-operative pain
Recover faster.
This advent of laparoscopic and minimal access surgery has alleviated post-operative care to a very different level, thereby conceptualising the trend of 'Day-care Surgery'. The early rehabilitation of patients coupled with other benefits makes it a total win-win situation for patients.
Technology & Infrastructure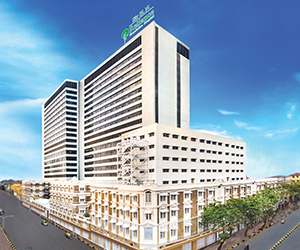 No effort has been spared in devising the best possible infrastructure for the General and Minimal Access Surgery department at Sir H. N. Reliance Foundation Hospital and Research Centre. Our high-tech equipment and expert surgeons of international repute clearly showcase our commitment to patient welfare.
Few highlights of this department:
12 spacious Operation Theatres equipped with the latest and the most sophisticated instruments for both conventional and advanced laparoscopic surgery
Minor Operation Theatre for dedicated day-care surgery to ensure maximum patient comfort
The latest imported equipment and operating tables providing maximum patient comfort and ergonomic position to the surgeon
The general surgery department is also supported 24/7 by a highly advanced trauma theatre within the emergency department which minimises excessive movement of the patient and helps perform surgeries within the golden hour
Addition of the da Vinci surgical robot to our armamentarium has further revolutionised patient care.
Services
Some of the common surgical procedures performed:
Hernia surgery – Inguinal and umbilical
Hernia surgery – Incisional, ventral and others
Hydrocele and varicocele surgery
Piles, fissures and fistula-in-ano surgery
Gall bladder surgery – open and laparoscopic
Appendectomy – open and laparoscopic
Varicose veins – Laser surgery /Stripping
Amputation
Trauma surgery
Breast surgery
Drainage of abscess
Excision of lumps and swellings e.g. Lipoma
Management of ulcers and wounds
Necrotizing fasciitis surgery
Lymph node biopsy
Circumcision
Skin grafting
Thoracic surgery – empyema, decortication, lobectomy
Abdominal surgery
Intestinal surgery/ Bowel resections
Laparoscopic surgery
Da Vinci robotic surgery.
Partners in care
Dr. Muffazal Lakdawala
Director of Surgery
Department
Bariatric and Minimal Access Surgery
Qualification
MBBS, MS (General Surgery)
Dr. Dilip Trivedi
Mentor & Consultant

Department
General Surgery
Qualification
MBBS, MS (General Surgery), FRCS (London)
Dr. Dimple Jain
Consultant

Qualification
MBBS, MD (Paediatric), PDCC (Paediatric Gastroenterology)
Dr. Ganesh Deshmukh
Consultant

Department
General Surgery
Qualification
MBBS, MS (Gen Surgery), FACS, FASCRS
Diplomate (American Board of Surgery),
Diplomate (American Board of Colon and Rectal Surgery)
Dr. Hitesh S. Mehta
Consultant

Department
General and Minimal Access Surgery
Qualification
MBBS, MS (General Surgery)
Dr. Kaiomarz Balsara
Consultant

Department
General and Minimal Access Surgery
Qualification
MS (Master of Surgery)
Dr. Kayomars B. Kapadia
Consultant

Department
General and Minimal Access Surgery
Qualification
MS (University Of Mumbai), FRCS (London), FRCS (Edinburgh)
Dr. Mehdi H. Kazerouni
Consultant

Department
General Surgery
Qualification
MBBS, MS (General Surgery)
Dr. Prashanth P Rao
Consultant

Qualification
MBBS, MS (Gen. Surgery), DNB (Gen. Surgery), MNAMS (Gen. Surgery), FCPS, Diploma in Laparoscopic Surgery (France), FRCS (Edinburgh)
Dr. Shirish Bhagvat
Consultant

Department
General & Minimal Access Surgery
Qualification
MBBS, MS (General Surgery)
Dr. Kamlesh Khandelwal
Consultant

Department
General and Minimal Access Surgery
Qualification
MBBS, MS (General Surgery)
Dr. Abhijit Thakur
Consultant

Department
General Surgery
Qualification
MBBS, MS (Gen Surgery) Mumbai University
AFSA (France)