The Nephrology department at Sir H. N. Reliance Foundation Hospital and Research Centre offers advanced treatment for a wide range of kidney diseases. The department is a major tertiary care centre and provides comprehensive diagnosis and treatment for kidney disease at any stage, the services being at par with international standards.
Our highly dedicated team of experts in Nephrology provides holistic kidney care that is well-supported by other paramedical departments.
The Nephrology department firmly believes in a multi-pronged approach to control common, preventable and dangerous kidney disorders such as Chronic Kidney Disease (CKD). This is achieved through early detection, patient awareness through education, dietary advice and timely medical intervention. Our nephrologists, along with other supportive services, are available daily for consultation at the hospital. Patients with conditions such as Diabetic Kidney Disease and Glomerulonephritis will also benefit immensely from the services offered by our Nephrology department.
Technology & Infrastructure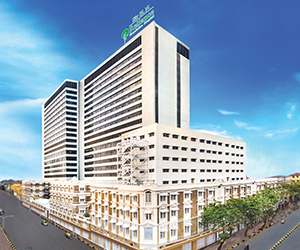 World-class equipment and cutting-edge technology has been procured for the Nephrology department. Special attention is provided with a multi-disciplinary approach.
Our hospital is equipped with a Haemodialysis unit of international standards. We also have a vibrant Kidney Transplant program to rehabilitate patients with advanced kidney failure. Outpatient nephrology services are targeted towards detection and treatment including kidney biopsy.
�

Services
Management of urinary infections
Kidney stone
Hypertension
Chronic kidney disease – multi-disciplinary approach
Dialysis
Kidney transplant
Kidney biopsy
ICU dialysis; Sustained low-efficiency dialysis (SLED)
ICU dialysis; Continuous renal replacement therapy in critically ill patients (CRRT)
Cardio-Renal syndrome clinic
Rheumatology-nephrology clinic
We also have a special team of doctors providing Paediatric nephrology care. Click here to know more
Partners in care
Dr. Bhupendra Gandhi
Mentor & Consultant

Department
Renal Sciences
Qualification
MBBS, MD (Medicine)
Dr. Bhavesh Vora
Consultant

Department
Internal Medicine
Qualification
MBBS, MD (General Medicine), DNB (Nephrology)
Dr. Hemal Shah
Consultant

Qualification
MD (Internal Medicine), DNB (Nephrology), MNAMS
Dr. Prashant Rajput
Consultant

Qualification
MBBS, DNB (Internal Medicine), DNB (Nephrology)
Dr. Rushi Deshpande
Consultant

Qualification
MBBS, MD, DM (Nephrology), DNB (Nephrology)