The Ortho Spine Surgery department at Sir H. N. Reliance Foundation Hospital and Research Centre is committed to provide highly advanced diagnostic and surgical treatment for patients suffering from disorders of the spine. The Hospital has full time spine surgeons providing round-the-clock services.
With cutting-edge technology and clinical expertise encompassing the full spectrum of spine care, this department provides quality services keeping in-line with international standards.
Our multidisciplinary team of spine surgeons, physical therapists and nurses deliver surgical treatment and physical therapy that is customised for each patient, keeping in mind the ultimate goal: To reduce pain, improve functionality and thereby improve the patient's quality of life.
Technology & Infrastructure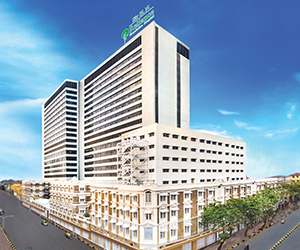 The Ortho Spine Surgery department at Sir H. N. Reliance Foundation Hospital and Research Centre is equipped with state-of-the-art, fully integrated operating rooms. In addition to this, we also have:
Complete range of rehabilitation facilities and modalities for non-operative care for spinal disorders
Rehabilitation for spinal cord injury and spine trauma
Specialised ICU for spine surgery
24/7 emergency services
Facility for day-care spine surgery.
A glimpse of the cutting-edge technology and medical equipment that's in place for the benefit of our patients:
Latest neuromonitoring technology for safe spine surgery
State-of-the-art high magnification microscope
Computer navigation for spine surgery
Facility for performing Minimally Invasive Spine Surgery
Endoscope for Minimally Invasive Spine Surgery
Cell savers to reduce the need for blood transfusion
Ultrasonic bone scalpel (for safety while working around delicate nerves and spinal cord)
Services
The department offers treatment for a number of spine conditions including Low back pain, disc disease, Lumbar canal stenosis, Disc herniation, Spondylolisthesis, Osteoporosis, Spinal Trauma, Spinal Cord injury, Infections (including Tuberculosis), Tumours and Metastases and Deformity (e.g. Scoliosis) of the spine.
Few of the procedures performed include:
Microdiscectomy
Laminectomy
Lumbar Fusion
Instrumented Spinal Reconstruction
Minimally Invasive Spine Surgery
Endoscopic Spine Surgery
Craniovertebral Spine Surgery
Revision Spinal Surgery
Total Disc Replacement
Motion preserving spine surgery
Vertebroplasty and Kyphoplasty
Image-guided interventional spinal procedures (e.g. Epidural Injections)
Non-operative care for spinal deformities (Bracing, casting)
Spinal Rehabilitation.
Speciality Clinics:
Back Pain Clinic with focus on holistic management of back and neck pain without surgery
Scoliosis Clinic for treatment of patients with Spinal deformities.
Partners in care
Dr. Arjun Dhawale
Consultant
Qualification
MBBS, MS (Orthopaedics), DNB (Orthopaedics), MRCSEd
Dr. Gautam Zaveri
Consultant

Qualification
MBBS, D.Orth, MS (Orthopaedics), DNB (Orthopaedics)