The Neurology department at Sir H. N. Reliance Foundation Hospital and Research Centre offers world-class treatment for a wide range of neurological conditions that is at par with international standards. Set to function as It is a major referral Centre, nationally and internationally for Neurology services, the Hospital provides comprehensive diagnosis and treatment for all.
Within the Department of Neurology, we cater to three primary areas: Clinical Care, Education & Research. We provide the highest quality neurological care for all patients, providing them access to state-of-the-art sub-Speciality care as well as innovative treatment for ailments. We educate the next generation care providers on technical advancements and also, through continuous research discover new information about the nervous system and develop path-breaking treatments and cures for neurological diseases.
We pursue our primary goals in an interactive manner and we strive to be a leader in interdisciplinary activities. The Neurology department brings together resources, expertise and capabilities in various specialties under one roof to better meet the needs of the growing number of patients with multisystemic diseases.
Technology & Infrastructure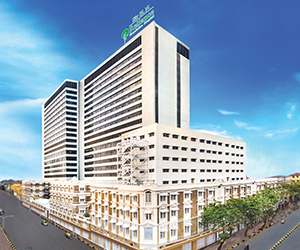 We have state-of-the-art infrastructure and cutting edge technology at the Neurology department of Sir H. N. Reliance Foundation Hospital and Research Centre to ensure the best outcomes for our patients in neurology, neurosurgery and interventional neuroradiology.
The talent pool is further enhanced by qualified and well-trained nursing and technical professionals. The nurses are trained in the latest techniques across various specialities and have implemented global best practices in care-giving. The department utilises Protocol and Care Pathway based treatment methods to ensure the best outcomes for patients. We also have a well-equipped Rehabilitation Centre that offers comprehensive neuro rehabilitation services.
We have some of the best medical equipment and technology in our hospital:
3T MRI machine
264 slice CT scan which is fully equipped
A CT machine in Emergency department for immediate imaging in cases of acute stroke
Transcranial Doppler
EEG (Electroencephalography) Machine – 32 Channel
Portable EEG (Electroencephalography) with Video EEG facilty
EMG (Electromyography) Machine
Fully equipped Nuclear medicine scanners and integration with CT scanners.
Dedicated Fully equipped Cathlab for various Neuro Interventions
Services
The Neurology department at Sir H. N. Reliance Foundation Hospital and Research Centre offers the following services:
Clinical Services
"Stroke Ready Hospital " :Hyper Acute Management of Acute Stroke and Transient Ischemic Attack ( Door to Needle Time of 20 to 60 minutes)
Mechanical Thrombectomy (Clot removal) , Angioplasy and Stenting of Brain Arteries
All major Neuro Interventions – Aneurysm Coiling, Carotid Stenting, AVM Embolization etc.
Epilepsy
Evaluation for epilepsy surgery
Management of nerve, neuro-muscular junction and muscle diseases
Sleep Studies
Neurodegenerative diseases such as Alzheimer's disease and Parkinson's disease
Neurological evaluation for Movement Disorders Surgery
Botulinum toxin treatment for various movement disorders (dystonia, tremor, etc.)
Brain Tumour Management
Normal pressure hydrocephalus
Trigeminal Neuralgia management
Wilson Disease management
Management of Neuro trauma.
Neuro Rehabilitation
Speciality Clinics
Memory Clinic
Movement Disorder Clinic
Epilepsy Clinic
Multiple Sclerosis (MS) Clinic
Patent Foramen Ovale (PFO) Clinic
Neurodiagnostic Unit
EEG: Electroencephalography
Video EEG: Video Electroencephalography (2 hours, 4 hours, 8 hours, 24 hours, 48 hours, 72 hours)
EMG: Electromyography
NCV: Nerve conduction velocity
SSEP: Somatosensory evoked potentials
BERA: Brainstem evoked response audiometry
VEP: Visual evoked potentials
ERG: Electro-retinography
Carotid duplex ultrasound and transcranial doppler studies.
Neuropsychology Unit
Neuropsychological assessment, follow-up and intervention for patients with dementia, head injuries or other brain disorders.
Education & Training
The Neurology department at Sir HN Reliance Foundation Hospital is a recognised institute for Diplomate of National Board (NBE, New Delhi) – DNB training in Neurology for the post graduates.
Continuous Learning and community awareness
The Neurology department conducts regular CMEs and programs with National & International faculties, as part of its commitment towards continuous learning & also conducts awareness programs & campaigns to educate general people about common neurological ailments.
Partners in care
Dr. Arun B. Shah
Director

Qualification
MBBS, MD (Medicine), DM (Neurology)
Dr. Joy Desai
Consultant

Qualification
MBBS, MD (Internal Medicine), DNB (Neurology)
Dr. Manish A. Chhabria
Consultant

Qualification
MBBS (Mumbai), DNB (Medicine), DNB (Neurology), MNAMS (Neurology)
Dr. Nishant Aditya
Consultant

Department
Neuro Intervention
Qualification
MBBS, MD (Radio Diagnosis)
Dr. Priyanka Tater
Associate Consultant

Qualification
MBBS, MD (Internal Medicine), DM (Neurology), FICM (Fellowship in intensive care medicine)