The Thoracic Surgery department at Sir H. N. Reliance Foundation Hospital and Research Centre is dedicated to early diagnosis and treatment of simple as well as complex conditions affecting the chest.
A General Thoracic Surgeon takes care of patients with surgical diseases of the chest, generally excluding the heart and great vessels. About 80% of Thoracic Surgery involves surgery for some sort of cancer. This includes such tumours as lung cancer oesophageal cancer, tumours of the chest wall and tumours of the mediastinum, or the space around the heart.
But a lot of Thoracic Surgery involves dealing with disease processes that are not cancer related. This includes such procedures like thymectomy for Myasthenia Gravis, sympathectomy for hyperhidrosis or "sweaty palms", first rib resection for thoracic outlet syndrome, myotomy for Achalasia, esophagectomy and reconstruction for end stage benign oesophageal disease, plication of the diaphragm for diaphragm paralysis, resection of oesophageal diverticulum, removal of cysts of the chest, lung transplantation, and providing tissue or biopsies of the lung and chest tissue to diagnose problems such as interstitial lung disease.
Much of Thoracic Surgery is now done minimally invasively VATS or Robotic. At our centre majority of the tumour resections are done either by the minimally invasive approach or using the robot, because it involves minimal blood loss, faster recovery and early discharge from the hospital.
With rising incidences of multi drug resistant Tuberculosis (MDR TB) and extreme drug resistant tuberculosis (XDR TB), the scope of services provided by Thoracic Surgery department has widened today. Our department delivers high quality comprehensive care for a wide range of benign and malignant thoracic conditions, which is matched by very few centres of excellence world-wide.
Technology & Infrastructure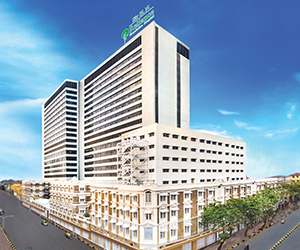 Aided by high-tech equipment like VATS (video-assisted thoracic surgery) and Robotic  backed by the expertise of a highly interactive multidisciplinary team, the Thoracic Surgery department at Sir H. N. Reliance Foundation Hospital and Research Centre provides the latest evidence-based care for patients. All routine as well as complex investigations needed for the management of cases are performed within the institution itself. Additionally, a dedicated team for rehabilitation and pain management acts as a useful adjunct to the early recovery of the patient. A strong support provided by our state-of-the-art ICU as well as intervention radiologist enables the surgeons to take up more complex thoracic cases.
Services
The services include:
Surgery for Tuberculosis
Thoracic trauma
Oesophageal Lesions
Lung Lesions: Lobectomy, Pneumonectomy, Segmentectomy
Mediastinal mass resection
Thymectomy
Chest Wall Resection and Reconstruction
Pleural lesions & biopsies
Diaphragmatic lesions & hernia
VATS Pleurodesis
Pleurex catheter placement for recurrent malignant effusions
Bullectomy and Mechanical Decortication for spontaneous pneumothorax.
Partners in care
Dr. Ali Asgar Behranwala
Consultant

Department
Cardiac Surgery
Qualification
MBBS, MS (General Surgery), DHA, MCh (CVTS), FIACS
Dr. Bipeenchandra Y. Bhamre
Consultant

Department
Cardiac Surgery
Qualification
MBBS; MS; M.Ch. Cardiovascular and Thoracic Surgery; MD (USA)
Dr. Marzi Godrej Mehta
Consultant & Section Co-ordinator

Department
Surgical Oncology
Qualification
MBBS, MS (Gen Surgery), DNB Surgical Oncology