The Hematology department at Sir H. N. Reliance Foundation Hospital and Research Centre provides the best possible care to the patients suffering from acute and chronic blood disorders. We have both adult and paediatric hemato-oncologists on board to take care of the patients of all age groups. The specialists are well-experienced and have worked extensively in their fields both nationally and internationally. They are experienced in hematopoietic stem cell transplantation as well.
Our nurses and other ancillary staff are very well trained in handling adults and children with blood-related disorders. We have strict protocols regarding the handling of central venous access devices. With a complete multidisciplinary team of hemato-oncologists, lab hemato-pathologists, infectious disease specialists, surgeons and excellent laboratory technicians, the hospital is geared to provide utmost quality care with empathy. Our team is suited to handle any medical emergency and are available 24/7 at your service.
Technology & Infrastructure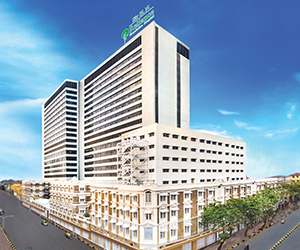 Our infrastructure and facilities are specially designed to take care of immunocompromised patients. We have HEPA filtered rooms to provide sterile environment for our transplant patients. We have both positive and negative pressure rooms on each floor. We have cutting edge pathology lab facility which includes flow cytometry, molecular genetic mutation analysis and coagulation testing.
We have one of the finest blood bank facilities in the country, where blood is leucocyte reduced at the source of collection, and undergoes NAT (Nucleic acid test) to decrease the chance of blood transfusion related infections. We have a plasmapheresis unit to treat hematological emergencies and also perform peripheral blood stem cell collection. Our daycare facility is staffed with hemato-oncology nurses who are specially trained to handle chemotherapy drugs and blood products.
Services
Adult Hematology
The mission of our Adult Hematology department is to provide the highest quality clinical care under strict protocols for our patients...

Partners in care
Dr. Ian Pinto
Consultant

Department
Medical Oncology
Qualification
MBBS (Bombay University), MD (New York, USA), Master's in Public Health (New York, USA), D.M. (Hematology) (New York, USA), D.M. (Medical Oncology) (New York, USA), F.A.C.P. (U.S.A.)
Dr. Samir Shah
Consultant

Qualification
MD (Gen. Med.) MRCP (Gen. Med.), MRCPath (Haematology) UK
Dr. Vashishth Maniar
Consultant

Department
Medical oncology and Hemato-oncology
Qualification
MBBS, MD (General Medicine), DM (Medical Oncology and Haemato - oncology)