Anatomy & Physiology Lab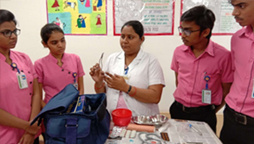 This lab is equipped with various models, specimens, skeleton and all kinds of bones, charts and the students are encouraged to use our Anatomy Lab to learn Anatomy of bones and joints and other systems also endeavour hands on experience to the students.
Community Health Nursing Lab
The CHN Lab is designed for the students to develop an understanding of the recent modern approach to appreciate the principles of promotion and maintain of health and also identification, prevention and management of common health problems in collaboration with community health team and members of the family and also with community leader.
Maternal and Child Health Nursing Lab
This lab is designed to help the learner to reinforce the learning about normal physiology of pregnancy, midwifery, obstetrics & child health nursing.The lab is well equipped with instruments, mannequins, articles which provides simulation and practice skills on various procedures to the students.
Nutrition Lab
This lab is designed to assist the learner to acquire wide range of knowledge of dietetics in Indian settings & to understand the concepts of " Nutrition, Health & Disease" while planning the diet for individuals and groups in the hospital and in the community.
Nursing Foundation Lab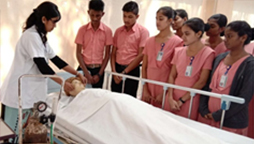 This lab is organized to learn basic and critical nursing care with the help of manikins and models. The various skills related to medical and surgical conditions, performing related nursing procedures are taught in nursing foundation lab.The uniqueness of the nursing foundation lab is that it combines the atmosphere of the hospital environment with sophisticated learning technology.
Computer Lab
This lab is designed for students to develop basic understandings of the use of computers and its applications in nursing. The computer lab has facilities to access various online journals and books through Elsevier