The Neurosurgery department at the Sir H. N. Reliance Foundation Hospital and Research Centre offers advanced neurosurgical management for a wide range of neurological conditions. We offer a multi-disciplinary treatment approach that is at par with international standards.
We provide compassionate, high-quality, patient and family centric care to people having brain and spine, nervous system and peripheral nerves ailments. We endeavor to not only diagnose and treat patients but also focus on rehabilitation and prevention.
The department uses most innovative and sophisticated neurosurgical techniques. Our team of highly trained neurosurgeons,neurologists, neuro-rehabilitation team and nurses work together to offer comprehensive treatment. We promote global teamwork through constant interaction and video-conferencing with specialists from recognised overseas neurosciences institutions and globally recognised doctors.
Technology & Infrastructure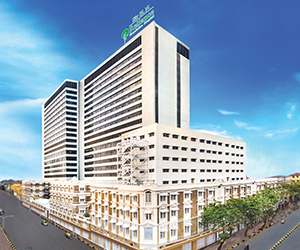 Intensive planning has gone into the development of supreme quality infrastructure for the Neurosurgery division to provide quality care to our patients.
Our state-of-the-art operation theatres and Hybrid Operating rooms are equipped with the very best equipment to help neurosurgeons perform intricate and specialised procedures. Some of these include Carl Zeiss Pentero 900 Neuromicroscope for Microneurosurgery, Strykers 3i Neuronavigation system for Image guided surgery and Robotic arm for precision in interventional procedures. We also possess the Elekta Stereotactic Frame for Deep Brain Stimulation (DBS), functional neurosurgery and radiosurgery as well as Karl Storz Neuroendoscopy station for minimal invasive brain and spine surgery.
Our Trauma Centre offers team services to combat casualty due to head and spine injuries on an immediate basis. Our blood bank and Emergency Services are operational 24/7.
We also have a well-equipped Rehabilitation Centre that offers comprehensive neuro rehabilitation services.
Services
Vascular Neurosurgery: Managing intracranial aneurysm, Arteriovenous malformations (AVM); Intracranial Bleed, etc.
Brain & Spine Tumours (Neuro-onco surgery)
Spine Surgery
Interventional Neurosurgery like Aneurysm, AVM, Tumour, Embolisation
Functional Neurosurgery: Epilepsy surgery, deep brain Stimulation for parkinsonism, ablative and augmentation procedures for pain and spasticity
Paediatric Neurosurgery: Management in paediatric conditions e.g. Craniosynostosis, Hydrocephalus, tethered cord, etc.
Peripheral Nerve Surgery: Peripheral nerve tumours, injuries, Carpal tunnel syndrome, Tarsal tunnel syndrome, etc.
General Neurosurgery: Management of traumatic brain injury, tuberculoma, brain abscesses, neurocysticercosis, hydrocephalus etc.
Partners in care
Dr. Anil Karapurkar
Consultant

Qualification
MBBS, MS (Gen Surg), MS (Neurosurgery)
Dr. Harshad Parekh
Consultant

Qualification
MBBS, MS (General Surgery), MCh (Neurosurgery)
Dr. Rakesh Singh
Consultant

Qualification
MBBS, M.S. (General Surgery), DM (Neurology)
Dr. Suneel Shah
Consultant

Qualification
MBBS, M.S. (General Surgery), M.Ch. (Neurosurgery), FRCS (Surgical Neurology)
Dr. Trimurti D. Nadkarni
Consultant

Qualification
MBBS, MS (General Surgery), M.Ch. (Neurosurgery)
Dr. Vivek Agrawal
Consultant

Qualification
MBBS, MS (General Surgery), M.Ch. (Neurosurgery)