The Laboratory Medicine department at Sir H. N. Reliance Foundation Hospital and Research Centre provides round-the-clock services for our in-patients and out-patients. The state-of-the-art infrastructure and technology ensures that our patients get quality test results with a rapid turn-around time. The experience and expertise of doctors and support staff in various specialties helps us maintain the highest of quality standards and superior customer service.
Technology & Infrastructure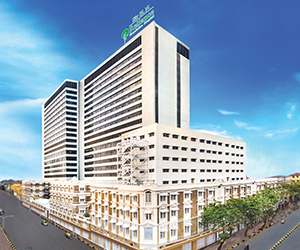 The department of medicine and blood bank are housed on a single floor, spread over 10,000 sq ft. The laboratory offers a wide range of routine and specialized testing services, including advanced molecular biology and genetic testing. All samples for testing are received via an automated pneumatic chute system, which allows for a safe and rapid transport of samples from collection room to the processing location. The samples are then automatically sorted and loaded on fully-automated analysers, with little manual intervention throughout. In addition, the availability of a centralized temperature monitoring system and a walk-in cold storage for preservation of reagents and samples, helps us maintain quality standards for national and international accreditation.
Services
The Laboratory Medicine department at Sir H. N. Reliance Foundation Hospital and Research Centre is fully equipped to provide a variety of lab investigations in many specialties such as:
Hematology- fully automated blood cell counters facilitate diagnoses of diseases that affect red blood cells, white blood cells, haemoglobin and platelets; automated coagulation analysers for bleeding disorders, high performance liquid chromatography for thalassemia & other haemoglobin disorders, and an ultra-modern flow cytometer for Leukaemia (blood cancer)
Biochemistry and Immunology department is equipped with latest technology that tests not only for routine chemistries such as glucose, lipid profile, liver and renal function tests, but also for specialized parameters such as tumor markers, cardiac markers, drug monitoring, and many more. Pre-analytical automation ensures minimal manual intervention during the entire testing cycle.
Clinical Microbiology and Serology department offers a range of tests for rapid identification of infection causing organisms and susceptibility testing for bacteria, mycobacteria and fungi. The department offers expertise in areas of bacteriology, mycology, mycobacteriology, virology (including HIV & Hepatitis viruses) and infectious disease serology, through advanced automated culture and identification systems.
Molecular Diagnostics is equipped with advanced, real-time PCR machines for diagnostic/prognostic tests for infectious diseases such as Covid-19, Tuberculosis (TB), HIV, Hepatitis B and Hepatitis C viruses; multiplex PCR machines for rapid identification of organisms causing pneumonia, meningitis and gastrointestinal infections
Allergy testing for more than 50 allergens, and a wide range of allergy panels for skin allergy, food allergy and rhinitis/asthma
Food Intolerance testing for more than 200 food items, with a comprehensive report, indicating which food items need to be avoided
Histopathology and Immunohistochemistry department is equipped with fully automated tissue processors and equipment for rapid processing of tissue specimens. The department also conducts immunohistochemistry staining for final diagnosis of undifferentiated cancers or for evaluating whether a patient would respond to targeted therapy. Intraoperative consultation is one of the key services offered by this department
Cytopathology department conducts numerous FNAC procedures and fluid examination for identification of cancer cells. The department also has an FDA approved, automated system for Liquid Based Cytology preparation for Pap smears, which greatly improves the detection rates of cervical pre-cancer and cancer
Partners in care
Dr. Shashikala Shivaprakash
Consultant & Infection Control Officer

Department
Laboratory Medicine
Qualification
MBBS, MD (Microbiology)
Dr. Harish S. Ahuja
Senior consultant pathologist

Department
Laboratory Medicine
Qualification
More than 35 years in Lab and Healthcare Management
Dr. Rina Shah
Consultant Pathologist

Department
Laboratory Medicine
Qualification
MBBS, MD ( Pathology)