The Vascular Surgery Department at Sir H. N. Reliance Foundation Hospital and Research Centre provides comprehensive service for all patients with vascular disorders. We cater to the full spectrum of arterial, venous and lymphatic disorders. With highly experienced surgeons and cutting-edge technology, this department delivers services at par with international standards.
We investigate each and every patient in order to have a comprehensive understanding of their condition. A team approach ensures that all available options are considered and presented to the patient in an unbiased fashion for their consideration.
Technology & Infrastructure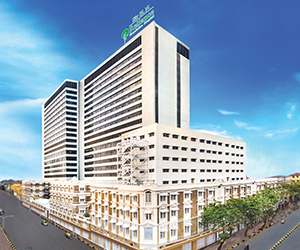 The Vascular Surgery Department at Sir H. N. Reliance Foundation Hospital and Research Centre has invested in the best facilities and infrastructure with fully integrated Operating Rooms.
A Hybrid operating room with the latest technology is available to perform minimal access vascular surgery as well as hybrid complex aortic surgery. We are equipped with the latest LASER and Radio Frequency Ablation System for varicose vein repair.
Services
Abdominal Aortic Aneurysm surgery (open surgery)
Abdominal Aortic Aneurysm Endovascular Grafting (EVAR)
Carotid artery endarterectomy and repair
Femoral-femoral crossover Bypass graft (PVD)
Femoral-Popliteal bypass graft (PVD)
Arterio Venous fistula creation surgery (End stage Kidney disease)
Aorto bi femoral Bypass (Abdominal Aortic Occlusive disease)
Axillo Femoral bypass
Thrombo-Embolectomy for peripheral artery embolisms.
Endoscopic Varicose Vein Repair (EVLT/EVRF)
Varicose Vein Ligation and stripping
IVC filter insertion
Endovascular repair of Thoracic and Thoracic-abdominal Aortic Aneurysm Repair (TEVAR)
Thoracic Outlet Syndrome surgery
Leg wound management and Toe amputations
Treatment of trauma or injury to arteries and veins
Amputation of extremities secondary to Peripheral Vascular disease
Reconstruction of renal arteries (Endarterectomy and Bypass)
Interpretation of noninvasive tests and angiographic studies regarding arterial and venous diseases.
Partners in care
Dr. Ali Asgar Behranwala
Consultant

Department
Cardiac Surgery
Qualification
MBBS, MS (General Surgery), DHA, MCh (CVTS), FIACS
Dr. Bipeenchandra Y. Bhamre
Consultant

Department
Cardiac Surgery
Qualification
MBBS; MS; M.Ch. Cardiovascular and Thoracic Surgery; MD (USA)