The Medical Oncology department at Sir H. N. Reliance Foundation Hospital and Research Centre offers a comprehensive oncology service that incorporates the finest evidence-based care anywhere, in a context of total empathy from the doctors, nurses and paramedical staff, with a clear commitment to Quality of Life restoration.
Technology & Infrastructure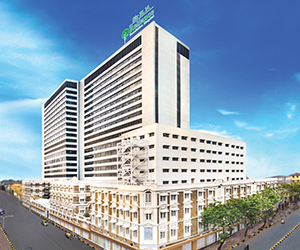 Thorough planning has gone into the development of infrastructure for our department. Every care has been taken that no stone is left unturned so that the highest quality of services are offered at the most affordable prices to everyone.
Very few hospitals offer such in-depth and exhaustive list of services in the field of oncology as we do. It is no wonder that we are touted to become a major referral Centre both nationally and internationally in this field. Our state-of-the-art infrastructure includes modular OTs, modern-day chemotherapy facilities, HIPEC/HIThoC delivery systems and Immunohistochemistry techniques to name a few.
We offer Neutropenia support facilities and a highly skilled set of oncology nurses who are trained to handle chemotherapy drugs. We have HEPA filtered rooms, flow cytometer, molecular labs. We are also assisted by our cutting-edge Radiology department that gives superior quality imaging for accurate diagnosis. Our Emergency services are a class apart and one only a few in our city can match up to.
Services
Dedicated adult and paediatric medical oncology services
Chemotherapy for solid tumours
Chemotherapy for haematological malignancies
Personalized targeted therapy for various cancers
HIPEC – Hyperthermic Intraperitoneal Chemotherapy
HIThoC – Hyperthermic Intrathoracic Chemotherpy
TACE - Trans-arterial Chemo-embolization
Intraarterial Chemotherapy
Partners in care
Dr. Suresh Advani
Mentor & Consultant

Department
Medical Oncology
Qualification
MBBS, MD (General Medicine), FICP, MNAMS, FNAMS
Dr. Sewanti Limaye
Director

Department
Medical Oncology
Qualification
MBBS, MD (New York University, USA), MS (Columbia University, NY, USA)
Dr. Anjana Sainani
Consultant

Department
Medical Oncology
Qualification
MBBS, MD
Oncology training Tata Memorial Hospital
Dr. Bharat Bhosale
Consultant

Department
Medical Oncology
Qualification
MBBS, MD (Medicine), DM (Medical Oncology), ECMO, PDCR
Dr. Ganapathi M Bhat
Consultant

Department
Medical Oncology
Qualification
MBBS, DNB (General Medicine), MNAMS
Dr. Ian Pinto
Consultant

Department
Medical Oncology
Qualification
MBBS (Bombay University), MD (New York, USA), Master's in Public Health (New York, USA), D.M. (Hematology) (New York, USA), D.M. (Medical Oncology) (New York, USA), F.A.C.P. (U.S.A.)
Dr. Mohan Menon
Consultant

Department
Medical Oncology
Qualification
MBBS, MD (Gen. Medicine), American Board Certified in Medical Oncology, Hospice and Palliative care and Internal Medicine, MBA
Dr. Pritam Kataria
Consultant

Department
Medical Oncology
Qualification
MBBS, MD (General Medicine), DM (Medical Oncology and Haematology)
Dr. Vashishth Maniar
Consultant

Department
Medical oncology and Hemato-oncology
Qualification
MBBS, MD (General Medicine), DM (Medical Oncology and Haemato - oncology)