The Gynaecologic Surgical Oncology department at Sir H. N. Reliance Foundation Hospital and Research Centre offers treatment for cancers of ovary, cervix, uterus, endometrium, vulva and vagina
Set to function as a major referral centre, nationally and internationally for Surgical Oncology services, the Hospital provides comprehensive diagnosis and treatment for gynaecologic cancer patients. Our dedicated set of medical, surgical and radiation oncologists and medical professionals offer a wide range of services like early detection, surgical procedures, rehabilitation, counselling as well as prevention.
Technology & Infrastructure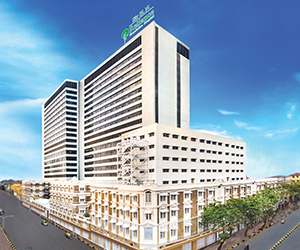 Thorough planning has gone for creating world class infrastructure and procuring cutting edge technology for our department.
Our high-class modular operation theatres enable us to conduct the most advanced and complicated surgical procedures. Our surgical team is assisted by sophisticated diagnostic services and well equipped Intensive Care units (ICUs) manned with qualified senior consultants to ensure better outcomes. The diagnostic department at Sir H. N. Reliance Foundation Hospital and Research Centre has advanced equipment for MRI, PET etc. The hospital also has Advance Laparoscopic set and Colposcopy machine to diagnose and treat uterine cervix related problems.
To keep abreast with the cutting edge technology in Cancer Surgery, the hospital has a da-Vinci Robotic system and a Hybrid operation theatre with Digital Subtraction Angiography (DSA). The Centre for Rehabilitation Medicine at the hospital is equipped with latest physiotherapy equipment.
Services
Preventive oncology

Colposcopy, LEEP, Cryo cauterization ,Conisation, PAP smear and HPV testing for early diagnosis and treatment of premalignant conditions of cervix, vulva & vagina
in High risk groups : Clinical examination, Transvaginal Ultrasound & Ca-125 for early diagnosis of Ovarian cancer (high risk group)
Systematic follow up with Transvagina sonography in high risk group for endometrial cancer
Lectures & counselling for cancer prevention and early detection
Awareness Camps ,lectures and counselling for cancer awareness
Genetic counselling and testing

Fertility preserving surgery like Radical trachelectomy, ovary preserving cystectomy, ovarian transposition for suitable selected patients
Hyperthermic Intra-peritoneal chemotherapy ( HIPEC) & post-operative Intra-peritoneal (IP) chemotherapy through port for Ovarian cancer
Extensive debulking staging laparotomy and Peritonectomy for Ovarian cancer
Nerve sparing Radical Hysterectomy (Robotic/Open) for Cervical and Endometrial cancer
Systematic radical surgery for endometrial cancer
With help of intra-operative frozen section for accurate diagnosis & decision making during surgery
For Suspected Ovarian cancer cases diagnostic Laparoscopic (key hole) followed by frozen section and SOS completion surgery laparoscopic/open
Cervical cancer advice & vaccination
Radical Vulvectomy, inguinal lymph node dissection with reconstruction for Vulvar cancer
Radical Vaginectomy
Completion surgery/ adjuvant treatment for incomplete treatment done outside
Palliative surgery in advance stage cancer patients
Compassionate care in terminal cases
Anterior/ Posterior/ Total Exenteration surgery for extensive cancer of cervix, ovary or vagina
Psychosexual counselling, guidance & Rehabilitation
Partners in care
Dr. Prashant Nyati
Consultant

Qualification
MBBS, D.N.B (Obstetrics and Gynaecology)