The Thoracic Surgical Oncology department at Sir H. N. Reliance Foundation Hospital and Research Centre offers world-class treatment for a wide range of ailments that is at par with international standards. It is a state-of-the-art tertiary centre for treatment of cancers of lung, oesophagus, mediastinum, chest wall and diaphragm offering the finest evidence-based care.
Our team of doctors and paramedical staff are committed to restore the Quality of Life and provide comprehensive care to patients.
Technology & Infrastructure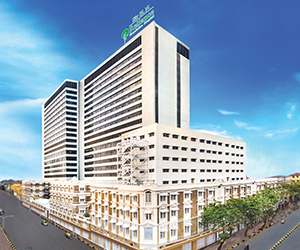 Meticulous planning has gone for creating world class infrastructure and procuring cutting edge technology for our department.
Our high-class modular operation theatres enable us to conduct the most advanced and complicated surgical procedures. Our surgical team is assisted by sophisticated diagnostic services and well equipped Intensive Care units (ICUs) manned with qualified senior consultants to ensure better outcomes. The diagnostic department at Sir H. N. Reliance Foundation Hospital and Research Centre has advanced equipment for MRI, PET etc.
To keep abreast with the cutting edge technology in Cancer Surgery, the hospital has a da-Vinci Robotic system and a Hybrid operation theatre with Digital Subtraction Angiography (DSA). The Centre for Rehabilitation Medicine at the hospital is equipped with latest physiotherapy equipment.
Services
Open and Minimally Invasive Surgery for Oesophageal Cancer, Mediastinal mass resection, Lung Cancer (Lobectomy, Pneumonectomy, Segmentectomy) Metastatectomy
Robotic Resection for Esophagus, Lung and Mediastinal Masses
Chest wall Resection and Reconstruction
Minimally Invasive Pleural biopsies and VATS Pleurodesis
Bullectomy and Mechanical Decortication
ORIF Ribs for Trauma
VATS Sympathetectomy
Video Mediastinoscopy
Diagnostic Bronchoscopy
Thoracoscopy and Biopsy
Early Detection of Carcinoma Oesophagus and Lung
Lung Cancer Screening
Multidisciplinary team approach for Thoracic Cancer management.
Partners in care
Dr. Marzi Godrej Mehta
Consultant & Section Co-ordinator

Department
Surgical Oncology
Qualification
MBBS, MS (Gen Surgery), DNB Surgical Oncology