The Breast Clinic at Sir H. N. Reliance Foundation Hospital and Research Centre offers treatment for benign as well as malignant disorders of the breast. Multidisciplinary & evidence based approach to the management of Breast cancer is followed & Personalised cancer treatment is given to the patients.
Set to function as a major referral centre, nationally and internationally for Breast cancer, the Hospital provides comprehensive diagnosis and treatment for breast cancer patients. Our dedicated set of medical, surgical and radiation oncologists and medical professionals offer a wide range of services like early detection with screening, surgical procedures, rehabilitation, counselling as well as prevention.
Technology & Infrastructure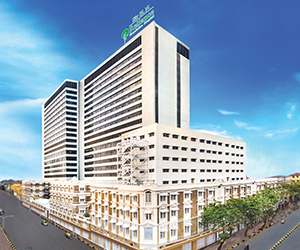 Thorough planning has gone for creating world class infrastructure and procuring cutting edge technology for our department.
Our high-class modular operation theatres enable us to conduct the most advanced and complicated surgical procedures. Our surgical team is assisted by sophisticated diagnostic services and well equipped Intensive Care units (ICUs) manned with qualified senior consultants to ensure better outcomes. The diagnostic department at Sir H. N. Reliance Foundation Hospital and Research Centre has advanced equipment for Digital Mammogram, Ultrasound, MRI, PET etc. The hospital also has an advanced radiation Therapy unit with Rapid arc Technology and we deliver the radiation with minimal side effects & in a shorter period of time.
The Centre for Rehabilitation Medicine at the hospital is equipped with latest physiotherapy equipment to deal with the arm oedema complications, which may occur post operatively
�

Services
Benign breast diseases Management
Cysts
Fibroadenoma
Intraductal papilloma
Nipple discharge
Nipple ulceration
Breast pain
Breast abscess
Galactocele
Gynaecomastia
Breast Augmentation
Mastopexy i.e. breast lift surgery
Surgery for Breast cancer
Phylloides surgery
Mastectomy including skin sparing & nipple sparing mastectomy, drain less mastectomy, IMF incision mastectomy and Goldilocks mastectomy.
Sentinel node Biopsy with dual dye.
Axillary node Clearance
Breast conservation surgery with intraoperative Wire localisations.
Oncoplasty techniques including Benelli, batwing, Grissoti techniques.
Therapeutic and reduction mammoplasty
Muscle sparing chest wall flaps like LICAP, AICAP, LTAP & T-DAP for partial as well as whole breast reconstruction which are the latest addition to the advances oncoplastic techniques.
The conventional LD Flaps & TRAM flaps.
The free flap reconstruction of whole breast using the DIEP / SIEP/ gluteal flaps.
Implant based reconstructions prepectoral as well as subpectoral with or without expanders, ADM or dermal slings.
Nipple reconstructions and areola pigmentation
Lipomodelling
Radiation Therapy
3weeks radiation protocols including the simultaneous integrated boost to whole breast as well as partial breast or the chest wall.
Axillary radiotherapy
Brachytherapy
Chemotherapy
Conventional as well as the targeted therapy with port insertions
Hormonal therapy
Bisphosphonates
Genetics
Genetic analysis for familial cancers
Genetic counselling
Risk reduction surgeries for both breast as well as ovarian cancers
Breast care nurses to guide the patients and support
Palliative care for advanced and metastatic settings including home care
Radiology
Diagnostic digital Mammography
Screening digital mammography
Mobile units for screening mammography
Ultrasonography of the Breast with Biopsy & Marker insertions
Stereotactic & ultrasound guided wire localisation of early lesions to aid the excision
MRI breast
Pathology
Core Biopsy & FNAC
Frozen section analysis
Histopathology with Immunohistochemistry and Synoptic reports
Physiotherapy
Physiotherapist well versed with manual massage techniques for lymphedema
Lymphapress machine for lympedema
Partners in care
Dr. Reshma J. Palep
Consultant

Department
Surgical Oncology
Qualification
MBBS, M. S. (General Surgery), D.N.B., M.R.C.S. (Edinburgh)
Dr. Nikhilesh Borkar
Consultant

Department
Surgical Oncology
Qualification
MBBS, M.S.-General Surgery, DNB-General Surgery, M.Ch.-Surgical Oncology, DNB-Surgical Oncology, MRCS (England), MNAMS-Surgical Oncology, FAIS, FEBS- Surgical Oncology, FEBS-Breast Surgery, FACS, FICS, FMAS, FIAGES