The Head Neck Oncologic and Reconstructive Surgery department at Sir H. N. Reliance Foundation Hospital and Research Centre offers treatment for malignancies of oral cavity, pharynx, larynx, salivary glands, thyroid, parathyroid and skull base.
The centre is multidisciplinary, encompassing all aspects of care, including but not limited to diagnosis, evaluation, treatment, rehabilitation and palliation. We provide currently recommended standard-of-care approaches to the management of the Speciality.
Technology & Infrastructure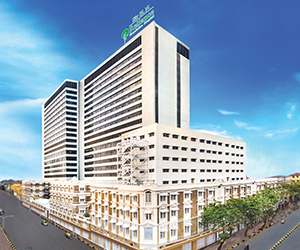 In-depth planning has gone for creating world class infrastructure and procuring cutting edge technology for our department.
Our high-class modular operation theatres enable us to conduct the most advanced and complicated surgical procedures. Our surgical team is assisted by sophisticated diagnostic services and well equipped Intensive Care units (ICUs) manned with qualified senior consultants to ensure better outcomes. The diagnostic department at Sir H. N. Reliance Foundation Hospital and Research Centre has advanced equipment for MRI, PET etc.
To keep abreast with the cutting edge technology in Cancer Surgery, the hospital has a da-Vinci Robotic system, Hybrid operation theatre with Digital Subtraction Angiography (DSA) and a Pentero 900 Operating. The Centre for Rehabilitation Medicine at the hospital is equipped with latest physiotherapy equipment.
Services
Oncologic Surgery (Tumour/Ablative Surgery)
Oncologic Surgery for the upper aerodigestive tract tumours (UADT) as well as the skin of the head, face and neck
Conservation Laryngeal Surgery, Laryngectomy
Jaw Tumours – Peroral resections, Pull-through procedures (avoiding/minimizing facial scars), improving functional and aesthetic outcomes, 3D reconstructions and computer aided cutting guides
Orbital Tumours: Open Craniofacial surgery for tumours of the anterior skull-base in conjunction with Neurosurgery
Skull-base surgery for tumours of the lateral skull-base i.e. Temporal Bone Resections and anterior skull base for paranasal sinus tumours
Salivary gland tumours surgery with facial nerve monitoring
Thyroid and parathyroid gland surgery with intraoperative nerve monitoring
Vascular Malformations involving the scalp, face, neck and UADT
Transoral Robotic Surgery TORS for tumours of the oral cavity, oropharynx, larynx and laryngopharynx
Transoral Laser Surgery for tumours of the oral cavity, oropharynx, larynx and laryngopharynx
Submandibular Salivary Gland Transfer
Brachytherapy.
Reconstructive Surgery (Microvascular Reconstruction)
Local and regional methods for reconstructive surgery to optimize functional and aesthetic outcomes
Free Tissue-Transfer – Including but not limited to immediate appropriate reconstruction with the use of standard soft-tissue, visceral or bone-flaps
Scapular free-flaps, Ulnar free-flaps
Facial Reanimation procedures.
Speech and Swallowing Rehabilitation
Focus on optimizing functional outcomes for all Head Neck tumours
Post-laryngectomy/Alaryngeal Speech Rehabilitation – Including but not limited to Tracheoesophageal Punctures (primary and secondary) and Prosthesis
Prosthetic Rehabilitation for the orbit, nose, ears
Dental rehabilitation – primary and secondary osseointegrated implants, prosthetics
Facial reanimation
Submandibular Salivary Gland Transfer.
Partners in care
Dr. Nikhilesh Borkar
Consultant

Department
Surgical Oncology
Qualification
MBBS, M.S.-General Surgery, DNB-General Surgery, M.Ch.-Surgical Oncology, DNB-Surgical Oncology, MRCS (England), MNAMS-Surgical Oncology, FAIS, FEBS- Surgical Oncology, FEBS-Breast Surgery, FACS, FICS, FMAS, FIAGES